10 Monkeys Maths World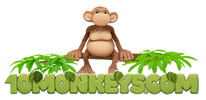 10 Monkeys Maths World
Have fun and practice maths with the monkeys! 10Monkeys teaches children aged 4-10 years old mathematic skills in a fun and interactive game-like environment.
CONTENT DETAILS
10monkeys offers high quality maths learning content in a fun and motivating way. Games and activities are designed specially for primary school students and early learners. 10monkeys Maths World is designed and used in over 100 countries in schools and at home. It is trusted by teachers and educators around the world.
Topics include:
Number recognition
Addition
Subtraction
Multiplication
Division
Money
Geometry
Time
FEATURES
Web-based maths practising program
Maths for children in kindergarten and grades 1‒4
Tens of thousands of maths activities - more than 250 different types of exercises
Motivating way to practice and learn more!
Progress tracker to follow up
Individual practising program with thousands of motivating activities
Available on desktops, laptops, iPads and Android/Windows tablets
A perfect tool for extra practice and preparation for exams at home
Access the printable 10Monkeys Tipsheet.
Connect with 10Monkeys Maths World and enter your library card and PIN numbers.
On the 10Monkeys landing page, click on Enter Game and then Continue.
Choose your Monkey by clicking on one of the Monkey images and then select one of the many games available!
View the 10Monkeys introductory YouTube video to learn more about this resource.
---